Life Style
Very Simple, Walking Has Many Benefits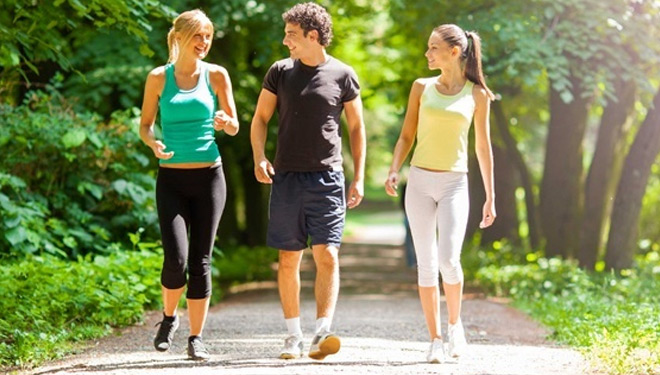 TIMESHONGKONG, JAKARTA – Many people consider trivial walking problems. Because according to most people, to get a healthy body must be taken by exercising extreme, avoid a lot of food, and also take vitamins or drugs.
In fact, without realizing it, walking can improve the health of your body. It seems very simple but the effects are indirectly felt, in which it is contrast to exercising at the gym or playing futsal. Walking habits can provide health benefits someday in saving your life. Reporting from Click Dokter, here are the benefits of walking.
1. Against genes that make weight gain easily
Researchers at Harvard Medical School found that 32 genes play a role in obesity in more than 12,000 people. From the research, they found interesting facts. Respondents who had a habit of walking at least an hour each day managed to reduce up to half the risk of genes that cause obesity. In other words, walking alone can reduce your risk of obesity.
2. Reduce the risk of breast cancer
Various studies have shown that physical activity can reduce the risk of breast cancer. The American Cancer Society observed that women who have a habit of walking for seven hours or more a week have a 14% lower risk of breast cancer than women who walk only about three hours a week. Not only that, walking can also prevent weight gain that is feared can play a role in the production of excessive cancer-triggering hormones.
3. Reduce joint pain
Many studies have shown that walking can reduce pain associated with joint inflammation or arthritis. In addition, walking eight to ten kilometers a week is proven to prevent joint inflammation. Walking can also protect the joints, especially knee joints and hip joints that are particularly susceptible to osteoarthritis or calcification of bone. By getting used to moving, the joints become lubricated and also strengthen the muscles used for walking. Load on the knee becomes reduced.
4. Prevent chronic and dangerous diseases
Based on data obtained from the American College of Sports Medicine, walking for 30 minutes per day can prevent various chronic diseases and dangerous diseases.
By walking for 30 minutes every day for 5 days a week, you can reduce the risk of heart disease, cholesterol and high blood pressure up to 50%. In addition, in the same way, walking can also reduce your risk of diabetes type two.
Such are the tremendous benefits that you can get if you try to take the time to walk. If you have trouble getting up early to do it, many ways you can do to remain realized. (*)