Education
The Students of Ma Chung Perform Their Internship Abroad to Obtain International Work Experience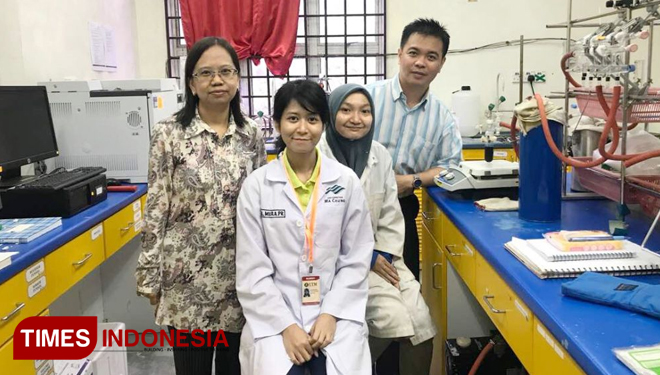 TIMESHONGKONG, MALANG – In 2018, two students of Universitas Ma Chung Malang or UMC Malang did their internship abroad. Internship or Praktik Kerja Lapangan (PKL) is one of the programs of Universitas Ma Chung that is aimed to create high quality graduates that can compete in the global markets.
Ma Chung has been establishing partnership with various foreign institutions to facilitate the students who need to do their internship. There are four countries that become the places for Ma Chung students to do their internship, namely Malaysia, China, Japan, and Brazil.
The two students that joined the internship program abroad are Yunita Pratiwi Saputra and Almira Praza Rachmadian. Yunita had the chance to perform her internship in China. This student from Business Management study program joined Shanghai Internship Program facilitated by Bright.
From January to March 2018, this 7th semester student performed her internship in the field of event management and finance industry. She claimed that she got many valuable experiences during her internship.
Yunita said that she could know and feel the authentic working world. She tried to apply her knowledge that she had learned during lectures.
"The working world there is very different from Indonesian culture. That's why I was required to be adaptive and flexible. And once again, I did it so well," said this student who also liked to dance.
She said that the internship program supported and gave a big impact to her future, especially in her career. Her foreign language skills, especially English and Mandarin, were improved as they were the main languages used in the office where she did her internship.
"I got many things that are beyond my expectations. I have never expected that I could get so many valuable experiences. My communication skill is also improved," she said.
Another internship experience was also told by Almira Praza Rachmadian, the 7th semester student of Chemistry study program. She had the chance to perform her internship in Centre for Sustainable Nanomaterials, Ibnu Sina Institute for Scientific and Industrial Reseach, Universiti Teknologi Malaysia (UTM).
Through research internship program as the cooperation between Universitas Ma Chung and UTM, Almira has been performing her internship since June to August 2018.
According to Almira, doing internship abroad was an extraordinary and unique experience. She got many knowledge, friends, and how to adapt with the environment that was different from Indonesia.
"The research facilities in Malaysia are complete and sophisticated. I haven't used them before during the research in Indonesia," she said.
Almira conducted a research in material sensor field. The supervisor of her research was Hendrik Oktendy Lintang. He said that this internship program could improve the students' understanding and experience in doing the international research.
Meanwhile, the Rector of Universitas Ma Chung Malang, Dr. Chatief Kunjaya, said that doing internship abroad could widen the students' insight, increase optimism, broaden the connection, and add the students' track record.
"I hope all the students have the opportunity to obtain more knowledge by doing internship abroad," he said.
Internship or PKL was one of the mandatory programs that should be performed by the students of Universitas Ma Chung Malang or UMC Malang. It does not only introduce the working world, but it also provides many new things to learn. (*)