Education
The Students of UIN Malang Joining Sakura Science Program in Japan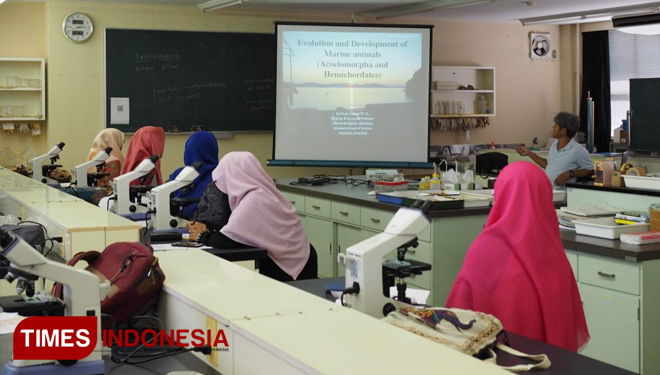 TIMESHONGKONG, HIROSHIMA – Three students of UIN Malang participated in Student Exchange Sakura Science Program. This program was held and funded by JST (Japan Science and Technology Agency)
The three students of Biology study program are Fathia Rahmatul Azizah, Miftakhul Jannah, Rhesma Yuliani, and Esamada Rose Nursaputri. They were accompanied by Dewi Yuliani, one of the lecturers. The program was started from Thursday (2/8/2018) to Tuesday (7/8/2018).
This program of which participants are from Asia has four categories. The categories are divided into senior high school students, undergraduate students, graduate students, and postgraduate students. This event is held annually on each season, namely winter, fall, spring, and summer.
Sakura Science Program is aimed to gain the interest of Asian students in the development of Science and Technology in Japan. Each campus selects the students through some stages. The requirements are file submission, interview, comprehension, and some videos. These stages are sorted according to the level, from the easiest one to the most difficult one. Then, the last two stages are making a summary and delivering a presentation.
The delegation of UIN Malang, along with the delegation from UNEJ, got a place in Universitas Hiroshima, Japan. The main activity is to learn Biology, especially Marine Biology.
"This program is outstanding. I could learn about Science and cultures there. There were so many positive things to learn. Never give up learning because our country is left behind other developed countries, especially Japan. Let's go, Indonesian students!" said Rose, the student of UIN Malang. (*)