Sports
Asian Games 2018
Tera Presents Silver Medal for Indonesia in Shooting Match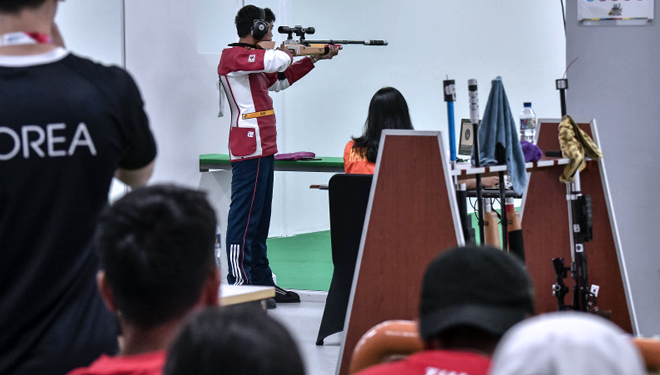 TIMESHONGKONG, JAKARTA – Indonesian shooter Muhammad Sejahtera Dwi Putra successfully presented a silver medal for Indonesia at the 2018 Asian Games. The Special coverage Team of Asian Games from Antara reported, Dwi Putra won the men's 10-meter running target mixed competition, at Jakabaring Sport City, Palembang, Saturday (25 / 8/2018).
The shooter who is familiarly called Tera won a total of 380 points. He is four points away from the North Korean shooter, Myong Won Pak, who won gold medal with 384 points. Meanwhile, bronze was won by Yu Gan from China with 379 points.
Tera's appearance has been calm in this number match since the qualifying round. His success in winning silver was quite surprising because his opponent was a world class shooter, like Myong Won Pak was the 2010 AG gold medalist in Ghuangzhou, China.
In stage 1 in the final, Tera's first shot missed so it only won 7 points. However, the rest he seemed to be able to rise and score high points up to stage 2. Unfortunatelly, the gold winner Myong Won Pak appeared more consistent from the beginning so he could shoot at the highest value target more.
"Points in this match only dropped 2-3 points from the results of Pelatnas training, still within reasonable limits. "That's what we expect, when under pressure, the difference in points should not go far," said the shooting coach, Masruri.
To the Special coverage team of Asian Games, Indonesian shooter Muhammad Sejahtera Dwi Putra admitted that he was very grateful because in the previous, he failed to enter the final in the match on the 10 meter individual number running target, even though he had topped the qualifying round on the first day. (*)