Sports
The Live TV Football Schedule on the Period of 1 - 3 September 2018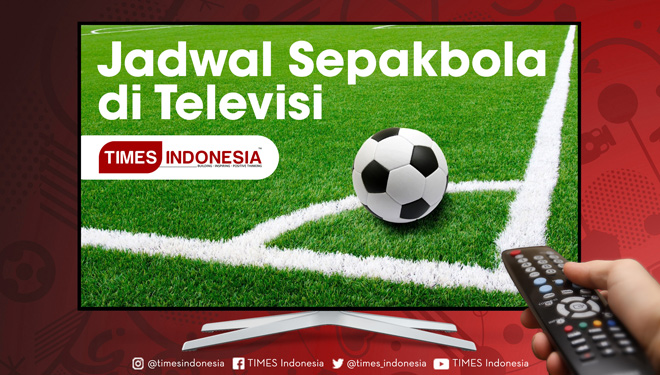 TIMESHONGKONG, JAKARTA – After waiting in the middle of the week, now the football schedule on television will again be crowded with European competition this weekend.
From Serie A, AC Milan's fight against AS Roma is a grand partita that can be scheduled this week. In addition, it is also an interesting match of Celta Vigo against Atletico Madrid in La Liga.
Moreover, there are still many exciting parties from the Premier League, Ligue 1 to Major League Soccer (MLS).
And here is the schedule for soccer on national television for the period of 1-3 September 2018.
SATURDAY, SEPTEMBER the 1st 2018
ENGLISH PREMIER LEAGUE
06.30 p.m - Leicester City vs Liverpool - BEIN SPORTS 1 / MNC TV
09.00 p.m - Chelsea vs Bournemouth - BEIN SPORTS 3
09.00 p.m - Burnley vs Manchester United - BEIN SPORTS 1
11.30 p.m - Manchester City vs. Newcastle United - BEIN SPORTS 1 / MNC TV
FRANCE LIGUE 1
01:45 a.m - Olympique Lyon vs Nice - BEIN SPORTS 1
SERIE A ITALY
01:30 a.m - AC Milan vs AS Roma - BEIN SPORTS 3
11.00 p.m - Bologna vs Inter Milan - BEIN SPORTS 2
LA LIGA SPAIN
01.00 a.m - Getafe vs Real Valladolid - BEIN SPORTS 2
03.00 a.m - Villarreal vs Girona - BEIN SPORTS 2
9:15 p.m. - Celta de Vigo vs Atletico Madrid - BEIN SPORTS 2
11.30 p.m - Rayo Vallecano vs Athletic Bilbao - BEIN SPORTS 3
SUNDAY, SEPTEMBER the 2nd 2018
MAJOR LEAGUE SOCCER
03.00 a.m - Seattle Sounders vs Sporting Kansas City - BEIN SPORTS 1
06.40 a.m - Montreal Impact vs New York Red Bulls - BEIN SPORTS 1
07.10 a.m - Columbus Crew vs New York City - BEIN SPORTS 3
09.10 a.m - Vancouver Whitecaps vs San Jose Eathquakes - BEIN SPORTS 2
09.10 a.m - Real Salt Lake vs LA Galaxy - BEIN SPORTS 3
LA LIGA SPAIN
01.45 a.m - Real Madrid vs Leganes - BEIN SPORTS 3
05.00 p.m - Levante vs Valencia - BEIN SPORTS 2
09.15 p.m - Deportivo Alaves vs Espanyol - BEIN SPORTS 2
11.30 p.m - Barcelona vs SD Huesca - BEIN SPORTS 2
SERIE A ITALY
01.30 a.m - Parma vs Juventus - BEIN SPORTS 2
11.00 p.m - Fiorentina vs Udinese - BEIN SPORTS 3
ENGLISH PREMIER LEAGUE
07.30 p.m - Cardiff City vs Arsenal - BEIN SPORTS 1 / MNC TV
10.00 p.m - Watford vs Tottenham Hotspur - BEIN SPORTS 1
FRANCE LIGUE 1
08.00 p.m - Saint-Etienne vs Amiens - BEIN SPORTS 3
SUPERLIGA ARGENTINA
06.00 a.m - San Lorenzo vs River Plate - BEIN SPORTS 2
MONDAY, SEPTEMBER the 3rd 2018
ITALY SERIE A
01.30 a.m - Sampdoria vs Napoli - BEIN SPORTS 1
01.30 a.m - Lazio vs Frosinone - BEIN SPORTS 3
MAJOR LEAGUE SOCCER
06.45 a.m - DC United vs Atlanta United - BEIN SPORTS 3
SUPERLIGA ARGENTINA
06.00 a.m - Boca Juniors vs Velez Salsfield - BEIN SPORTS 1
LA LIGA SPAIN
01.45 a.m - Real Betis vs Sevilla - BEIN SPORTS 2 (*)