Education
The Secret of the Best Graduate of UIN Malang, Firdaus Imaduddin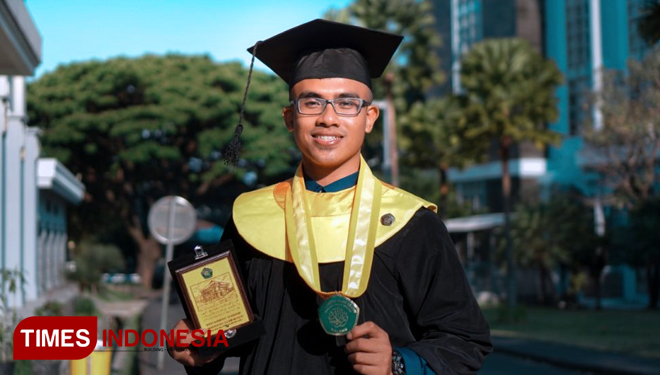 TIMESHONGKONG, MALANG – M Firdaus Imaduddin succeeded to become the best graduate of UIN Malang in the third graduation period held on Saturday (22/9/2018). He did not expect that he was chosen as the best graduate.
However, becoming the best graduate was also his dream. "Alhamdulillah, I am really grateful," said the graduate from Lamongan, East Java to TIMES Indonesia.
Imad is a student of UIN Malang who has attained many academic achievements, such as research scholarship in Singapore, Student Cumulative Research (PKM), and his published journal. Imad is also chosen as the best graduate in his faculty, Faculty of Humanities of UIN Malang.
He graduated with grade point average of 3.97 by writing a thesis about the ideas of modern Arabic grammar expert. The thesis was finished in only two months. According to Imad, the theme was very interesting to study because the phenomenon was on trend.
Imad is an optimistic and has a string principal. Becoming the best graduate has become his main target since the beginning. "From the beginning, I always want to do everything maximally. I also want to make my parents proud of me by becoming the best graduate of UIN Malang," said the boy who was the only child in his family.
When he encountered many difficulties in academic sphere, Imad always tried to find the solutions. "I find the solutions by reading many books, discussing with friends, and if there is a mistake, I always try to fix it," said Imad.
His strong principal made Imad have a balanced time for his academic and his leisure time. "When the others are on holidays, I always try to finish my target first. If everything has been finished, I make time for my vacation," he continued.
Imad said to the other students to be brave and accept all challenges. "Don't hold back and don't resist the challenges because you will get valuable experiences from the challenges," said Imad.
Becoming the best graduate of UIN Malang does not become his final stop. Imad plans to continue his study in UGM. Firdaus Imaduddin also wants to challenge himself by applying scholarships for study abroad. (*)