Education
Super! Medical Faculty of UIN Malang Achieves IMSF 2018 Award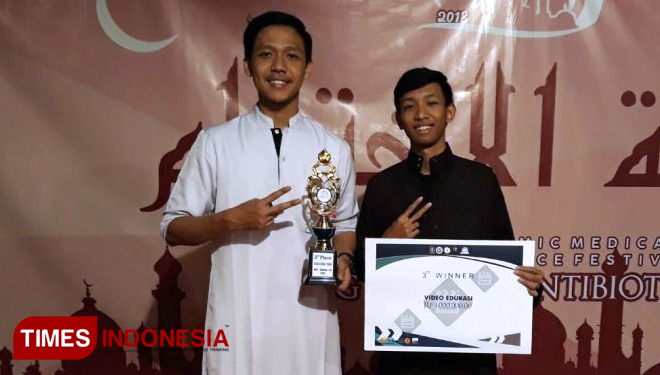 TIMESHONGKONG, MALANG – Medical Faculty (FK) of UIN Malang has attained an award of IMSF 2018 (Islamic Medical Science Festival) at FK UII Yogyakarta. The competition was held for four days, from Thursday to Sunday (20 – 23/9/2018).
FK UIN Malang sent its four delegations to compete with the other medical students from all universities in Indonesia. They were Rislan Faiz M as the captain, Fadhilah Istiapalja, Siti Rozia Ria Famuji, and Firnanda Salza Asmara. They became the third winner in that national event.
This year, IMSF raised the theme of 'Islamic Approach on Endocrine and Metabolism Regulation'. The competition was aimed to create Islamic future doctors that have research skills.
There were various competitions in IMSF 2018, such as public posters, educational video, speech contests, Hifdzil Quran, and Quran Literature Review.
The students of UIN Malang joined a video competition by making an educational video of which title was 'Prevent Diabetes with Tahajjud'. Rislan explained that this video mainly talked about the benefits of tahajjud for curing diabetes mellitus.
"Initially, we did not expect that our video will pass the final because we encountered many difficulties in making the video, such as the actors, cameramen, and the editing. We thought that we had not done maximally," said Rislan to TIMES Indonesia (timesindonesia.co.id) at Campus 3 of UIN Malang.
Meanwhile, Firnanda Salza said that this success did not come that easy due to many criticisms from others. "During the final held by FK UII Jogja, we were pessimistic as we saw other groups' presentations that were really perfect. We were rather nervous at that time. There were also some suggestions and criticisms from the judges, but we also got compliments. And then, during the announcement, we did not expect that we got the third presentation! Wow!" she said with pride.
They expected that this achievement could motivate other students. "I hope FK UIN Malang could reach the first place in IMSF next year," said Ria. (*)