Travel
Like Spicy Food? Try this Menu Ndower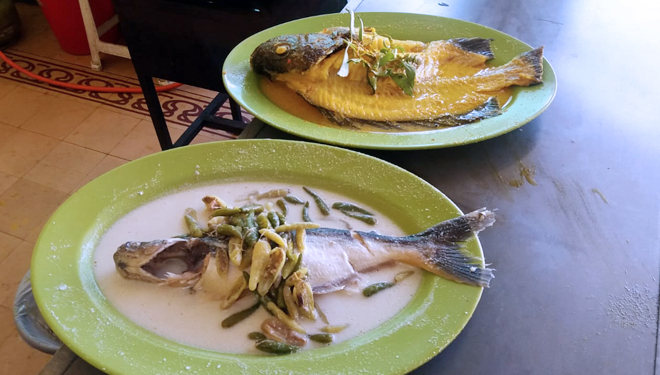 TIMESHONGKONG, MALANG – There are myriad of restaurants in Malang serving spicy foods, such as noodles, chicken, duck, and western menu, like hamburger.
Those who like spicy food should not miss Menu Ndower from Warung Gule Kepala Ikan Mas Agus Malang.
This restaurant is well-known for its various fish menu, as well as the deliciousness of its spicy menu. It has been established in Malang since 2010.
Warung Gule Kepala Ikan Mas Agus is a franchise restaurant centered in Surakara. However, Menu Ndower is only served in its branch in Malang, which is located in Jalan Arif Rahman Hakim 21, Malang.
"Menu Ndower at Warung Gule Kepala Ikan is a fish menu served with savory coconut milk and herbs, sprinkled with green chili and green tomato. The taste is amazing," said Johan, the Head of the Chef at Warung Gule Kepala Ikan Mas Agus Malang.
There are various kinds of fish that can be serves as Menu Ndower, such as Parrot Fish, Catfish, Carp, Pomfret Fish, and Tilapia. Besides Menu Nodwer, Warung Gule Kepala Ikan Mas Agus also serves other fish menu, such as curry, tom yam, and various grilled and fried food.
Johan explained that the key ingredients of Menu Ndower are seasonings and herbs, combined with green chili and fresh green tomato.
"The savory gravy and the nutritious fish are perfect match with warm rice," he said.
Although it is labelled as spicy food, this menu can also be consumed by those who do not like spicy food because the chili is served separately.
"You only need to bite the green chili if you want to add spicy taste," explained Johan.
To quench the thirst after eating Menu Ndower, the visitors in Warung Gule Kepala Ikan Mas Agus could order beverages, such as Es Gula Asem and Beras Kencur. These beverages could be served warm for those who do not like cold beverages. (*)