Education
SD Al Azhar 56 Malang Introduce Japanese Culture to Their Students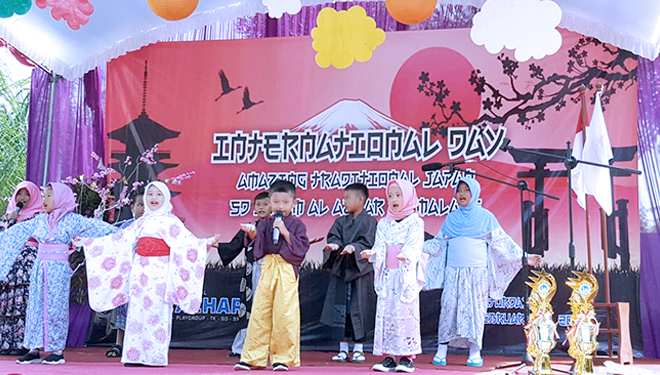 TIMESHONGKONG, JAKARTA – Beautiful sakura flowers, Japanese foods, and lots of people wearing kimono become a new fresh scenery at SD Al Azhar 56 Malang today (23/2/2019). This is due to the "International Day Amazing Traditional Japan" that conducted by the school as their annual event this year.
To support the event, the school also invited 2 Japanese lecturers from Bawijaya University, Ogawa Yuki and Asuna Kawamoto.
"I'm so impressed to this event. I feel like in Japan already, because there are lots of people wearing kimono, the sakura flowers blooming everywhere, and lots of traditional Japanese foods too," Ogawa Yuki said.
The two lecturers also gave a training on how to write a proper Kanji, the Japanese writing system to the students and all participants in that event.
"We would like to introduce Japanese culture to the students and their parents, about their discipline and their perseverance that worth to be copied," Ramlih, SAg the headmaster of SD Al Azhar 56 Malang said.
Nasya Haura a grade 2 student of SD Al Azhar 56 Malang which sang Japanese song entitled 'Mirai' said that she was so excited with this event. "I'm definitely happy, because I could learn how to speak Japanese and write Kanji, also I could wear this beautiful kimono too," she said. (*)