Education
Several Reasons Why UIN Malang Runs Literature and Linguistics Class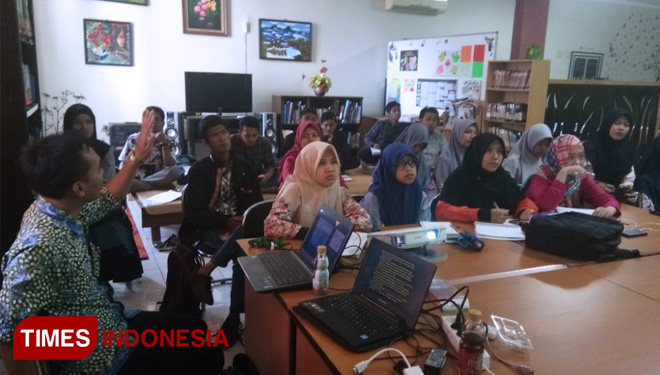 TIMESHONGKONG, MALANG – Self Access Center (SAC) of the Faculty of Humanities at UIN Malang has its own way to prepare its students with various research knowledge. They run a class outside the class hours named Sekolah Sastra dan Linguistik (Literature and Linguistics Class).
This class is aimed to give research material and research experience to the students, especially in Literature and Linguistics study. This class is open particularly for the 4th and 6th-semester students of English Letters and Arabic Language and Literature study programs.
According to the Executive Coordinator, M. Anwar Masadi, this class only prioritizes the participants from 4th and 6th semester in order to match the given curriculum.
"We focus on giving research experience to those in the 4th semester. Meanwhile, the 6th semester students could use the research materials for their thesis preparation and thesis writing," said Anwar prior to the opening of the second batch of Literature and Linguistics Class on Thursday (21/02/2019).
Anwar explained that this class was initiated by the lecturers who had regular non-mandatory activities. The participants in these activities were not many. Since then, SAC and the lecturers decided to run a research class that has clear system and curriculum.
The materials delivered in the presentations were given by the lecturers who are expert in their own fields. All the Literature and Linguistics theories taught in this class could be used in the thesis. "There are many new materials that have not been taught in the general lectures," said Anwar.
"Besides giving the new information, we also give various new theories development in the sphere of Linguistics and Literature," he said. The participants will join this class in 16 meetings. After delivering the materials, the participants are going to be divided into several groups to make the consulting and research conducting easier.
The committee said that this year the number of the participants in this class is twice as much as the last year. SAC does not limit the number of the participants because this class is aimed to be used as students' study guide.
"We prepare and help the students of UIN Malang to conduct a research by running this Literature and Linguistics Class. We hope that their research results could be submitted as a journal and presented in international seminars," said Anwar. (*)