News
Megibung, a Traditional Balinese Dining Held by General Staff Meeting Quest Hotel Kuta Bali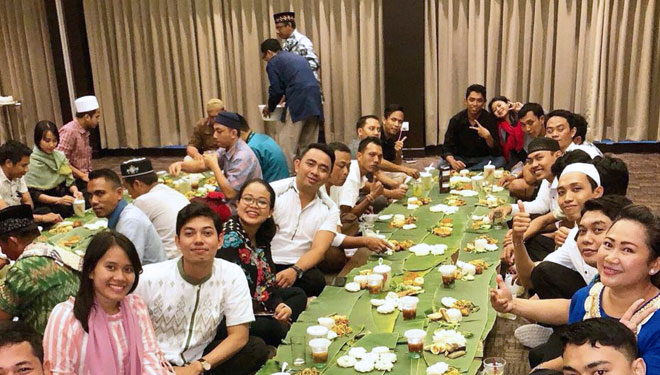 TIMESHONGKONG, DENPASAR – Quest Hotel Kuta, Bali held a General Staff Meeting (GSM) with a little different concept. If some other company will held their staff meeting with a fancy dinner then this Hotel brings the Megibung as their fancy feast.
Megibung is an activity where some people sit together and share the food from one big plate or, more traditionally on a big piece of banana leaf. The purpose of this is to strengthen social ties amongst the staff if the hotel.
"We held it in order to strengthen our social ties between the staff in this Ramadhan. So we asked the staff to wear moslems outfit," Desak Lia Haryati the Director of Sales Quest Hotel Kuta said.
As any other break fasting event, there was also a preech by Ustaz Faturohman from Masjid Taqwa Purnawira Denpasar which enlightens the staff with his Ramadhan topic.
The Megibung which become the centre of attention closed the event. All the the staff of Quest Hotel Kuta eat together on a banana leaves on the General Staff Meeting (GSM) which occasionally held in 3 months. (*)