News
Top and Local Musicians Ready to Take FestivaLAnd in Jember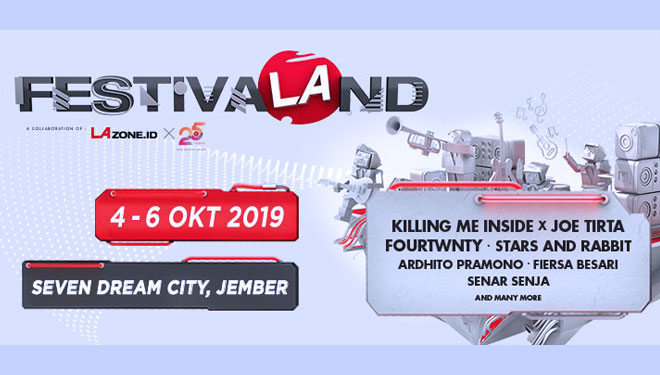 TIMESHONGKONG, JEMBER – After the success in Manado, Banjarbaru, Makassar, Pontianak, Pekanbaru, Samarinda, and Palembang, now FestivaLAnd is ready to repeat its success in Jember, East Java. This musical performance will be taking place at Sevendream City, Jember, on 4 – 6 October 2019.
Ismi Aghnia, the Project Office FestivaLAnd 2019, reminded that his team will be able to attract more than 20,000 visitors to FestivaLAnd.
"We target 20,000 visitors, starting from the age of 18 to 35. FestivaLAnd will be presenting various marketplace tenants and culinary tenants managed by the businessmen in Jember," said Ismi.
FestivaLAnd is organized by LAzone.id and Bold Experience, collaborating with Dyandra Promosindo.
"FestivaLAnd will not perform musical performances only, but also feature the creativity and expression in music, entrepreneurship, communities, and creative industry," said Ismi.
There will be top musicians in FestivaLAnd, such as Senar Senja and KILMS that will be entertaining the guests on the first day.
On the second day, there will be Fiersa Besari and Stars and Rabbit. Lastly, there will be Fourtwenty and Ardhito Pramono.
There will be several local bands, such as Cry On, Duduk Bersama, Brother Hood, The Mask, and Band Submission.
FestivaLAnd Jember will be more exciting with other live activities, such as live mural, skating area, cosplay, and the list goes on.
Another program is Creative and Innovative Talks that will be featuring the main presenters from Jember.
"There will be three influencers sharing the innovative talks during the three-day festival. The first one is Fita Okta Fiana as the Tourism Ambassador of Nebeng Bondowoso, Teguh Prakoso, and The Kardiman as a YouTuber," he said.
Not only music, but the visitors will be pampered by the fashion and culinary bazaar in FestivaLAnd.
Ismi said that besides giving different experience to the public, this festival will also support and boost the creative aspect of the local community in Jember.
"This program will make FestivaLAnd to be a music festival as well as the space for creative communities to collaborate in order to create a popular artwork," he said.
"FestivaLAnd aims to be a positive place for all society elements to be able to express themselves, collaborate, and create," he added.
For the information, the entrance ticket to FestivaLAnd 2019 is IDR 25,000.
FestivaLAnd 2019 is also in partnership with Blibli and Bank BCA that offer IDR 100,000 worth voucher that could be used to do any transactions in all tenants available in the event.
Besides, FestivaLAnd 2019 also collaborates with TIMES Indonesia and TIMES Jember as their media partner. (*)