Life Style
This is What Novotel Samator Surabaya Did to Celebrate the Batik Day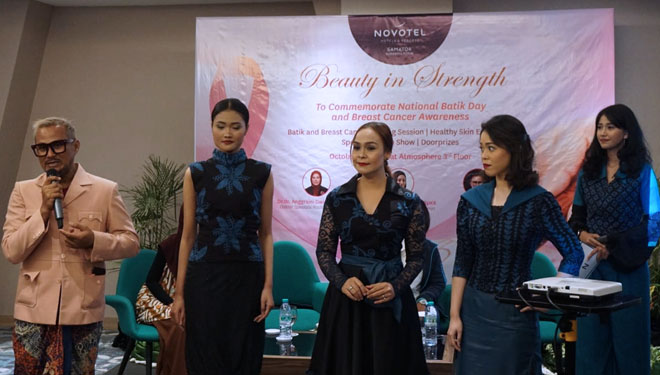 TIMESHONGKONG, SURABAYA – Novotel Samator Surabaya held a talkshow in form of sharing session entitled Beauty in Strength. This talkshow was held due to celebrate the Batik Day and commemorate the Breast Cancer Awareness Month.
The hotel invited several keynote speakers such as Embran Nawawi a fashion designer, dr. Santi Septika, Sp.Rad an oncologist of Siloam Hospital Surabaya, Roza a breast cancer survivor and dr. Irmadita Citrashanty, SpKK of Surabaya Skin Centre.
"We must actively check our own health, regularly massage the breast and if you feel there is something wrong with it, dont be hesitate to contact your doctor asap," dr. Santi said on Friday (11/10/2019).
This fussion event took 3 cancer survivors to be a model for the Batik by Embran Nawawi after the talkshow over. The Batik presented were dominated with a blue color that symbolize how bad is the marine ecosystem nowadays.
The Batik Day celebration and Breast Cancer Awareness Month commemoration which was held by the Hotel Novotel Samator Surabaya was aimed to conserve the cultural heritage and to educate people especially woman about the important of early detection on breast cancer. (*)