Life Style
Check This Annual Event of HARRIS Hotels Grup Bali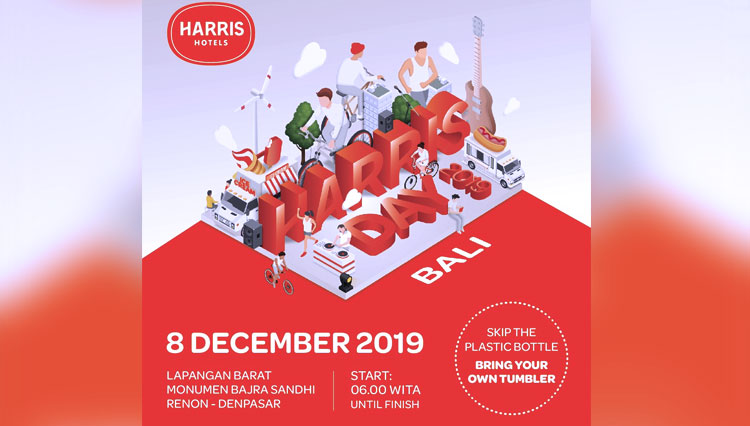 TIMESHONGKONG, DENPASAR – In order to support the healthy living campaign, HARRIS Hotels Grup Bali conducted their annual event namely known as HARRIS Day 2019. This event was conducted on Sunday (8/12/2019).
HARRIS Day 2019 which took place at Bajra Sandhi Renon West Field, Denpasar, Bali was also held together at a time in another 7 HARRIS Hotels such as in Bekasi, Batam, Bandung, Central java, EAST Java, Samarinda, and Pontianak.
This annual event was firstly held on 2010 with several activities such as outdoor sports and game. Everything was designed for fun and for the sake of their customers.
Normally, HARRIS Day 2019 will only hold Fun bike or something like that, but this year the event took the customers to have Family Fun Walk, and several fun games with interesting rewards.
Some people who brought their kids along also put their kids at the Kids Zone. The kids played as they pleased on this area while the parents put your feet to rest.
There were also a food festival that could filled your belly after taking a long walk. There were lots of food, snack and beverages for you to taste.
"HARRIS Hotels will always love to see our customers stay fit and healthy. This event were consistently support the healthy living style for the sake of our customers," General Manager of Bali Regional TAUZIA Hotels Cluster, Nyoman Wirayasa said.
The tickets were sold for IDR 75 K per piece. Most of the participants of HARRIS Day 2019 were coming from the local community, hotel guests, and several of their business partners. For more information about HARRIS Hotels Grup Bali events, you could visit their official website on www.whatsupharris.com.(*)